About Us
Wonderful Kitchen is a Chinese takeaway in Alvaston. Why don't you try our Roast Duck Satay or Crab Meat & Sweetcorn Soup?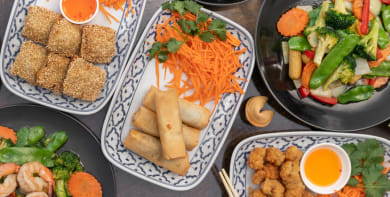 Reviews
19 reviews
alan
"Fantastic food and service once again. Outstanding ."
06/05/2021
Tim
"We always enjoy both food and service and would buy Chinese food anywhere else in Derby. Highly recommend"
24/04/2021
Jessica-Elizabeth
"Always excellent food and great service!! Their chilli, salt ribs are the absolute bomb!! Definitely recommend."
22/04/2021
miles
"As always great food every time 😋😋😋"
17/04/2021
Menu
Aromatic Crispy Duck Half
Served with pancakes, cucumber, spring onion & hoisin sauce
£14.50
Aromatic Crispy Duck Quarter
Served with pancakes, cucumber, spring onion & hoisin sauce
£8.20
Crab Meat & Sweetcorn Soup
£2.60
Mini Meat Spring Rolls (4)
£2.80
Mini Vegetable Spring Rolls (8)
8 In a portion
£2.60
Mixed Platter
BBQ ribs, sesame prawn toast, wonton, mini vegetable rolls & samosas
£7.50
Salt & Pepper Chicken Wings (7)
£4.20
Peking Style Chicken Wings (7)
£4.20
Triple Crown
Roast pork, roast duck & spare ribs in BBQ sauce
£6.00
King Prawns with Cashew Nuts
£5.40
Roast Pork with Cashew Nuts
£5.20
Roast Duck with Cashew Nuts
£5.40
Roast Duck with Pineapple
£5.40
King Prawns with Pineapple
£5.40
King Prawns with Mushrooms
£5.40
Roast Duck with Mushrooms
£5.40
Roast Pork with Mushrooms
£5.00
King Prawns with Tomatoes
£5.40
King Prawns with Sweetcorn
£5.20
Roast Duck with Bean Sprouts
£5.40
King Prawns with Bean Sprouts
£5.40
Chicken with Bean Sprouts
£5.00
Special Set Dinner S1 for 1 Person
• Chicken in Black Pepper Sauce
• Sweet & Sour Pork Cantonese Style
• Yeung Chow Fried Rice (1)
• Prawn Crackers
£9.50
Special Set Dinner S2 for 2 People
• Beef Satay
• Sweet & Sour Chicken Cantonese Style
• King Prawns with Green Pepper in Black Bean Sauce
• Yeung Chow Fried Rice (2)
• Prawn Crackers
£19.50
Special Set Dinner S3 for 3 People
• Kung Po Special
• King Prawns with Mushrooms
• Crispy Chicken in Lemon Sauce
• BBQ Spare Ribs in Peking Sauce
• Crispy Wonton (9)
• Yeung Chow Fried Rice (3)
• Prawn Crackers
£29.50
Special Set Dinner S4 for 4 People
• Roast Duck in Plum Sauce
• Szechuan Chicken
• Spicy Chilli Crispy Beef
• Happy Paradise
• BBQ Spare Ribs in Peking Sauce
• Mini Pancake Rolls (8)
• Yeung Chow Fried Rice (4)
• Prawn Crackers
£37.50
Roast Pork with Bamboo Shoots & Water Chestnuts
£5.00
Shrimps with Bamboo Shoots & Water Chestnuts
£5.00
Roast Duck with Bamboo Shoots & Water Chestnuts
£5.40
King Prawns with Bamboo Shoots & Water Chestnuts
£5.40
Chicken with Bamboo Shoots & Water Chestnuts
£5.00
Beef with Bamboo Shoots & Water Chestnuts
£5.00
King Prawns in Peking Sauce
£5.40
Curry Chicken Fried Rice with Chips
£6.00
Fish Cake with Chips & Sauce
£5.00
3 in 1 (Fried Rice, Chips & 1 Sauce)
£4.50
Chicken Balls (5) with Fried Rice & Chips
£5.50
Chicken Fried Rice with Chips & Sauce
£6.00
Plain Chow Mein with Chips & Sauce
£5.00
Sweet & Sour Chicken With Fried Rice & Chips
In Cantonese style
£6.00
Roast Duck with Sweet Ginger & Pineapple
£5.40
Beef with Sweet Ginger & Pineapple
£5.00
Chicken with Sweet Ginger & Pineapple
£5.00
King Prawns with Sweet Ginger & Pineapple
£5.40
Pineapple Fritters in Syrup
£2.50
Quarter Half Roast Chicken
With gravy
£5.50
Special Omelette
Long container
£5.50
Black Pepper Sirloin Steak
£12.00
Chicken Nuggets 06 Pieces
£4.00
Chicken Nuggets 10 Pieces
£5.00
Mixed Vegetables in Black Bean Sauce
£4.60
Mixed Vegetables in Peking Sauce
£4.60
Sweet & Sour Mixed Vegetables
£4.60
Szechuan Mixed Vegetables
£4.60
Bamboo Shoots & Water Chestnuts
£2.60
3 in 1
Egg fried rice, chips & one sauce all in one tray
£3.80
Special in Black Pepper Sauce
£5.50
Roast Pork in Black Pepper Sauce
£5.00
Roast Duck in Black Pepper Sauce
£5.40
Beef in Black Pepper Sauce
£5.00
Chicken in Black Pepper Sauce
£5.00
King Prawns in Black Pepper Sauce
£5.40
House Special Chow Mein with Sauce
Long container
£5.40
Singapore Vegetable Chow Mein
Hot
£4.80
King Prawns with Straw Mushrooms & Baby Corn
£5.20
Chicken with Straw Mushrooms & Baby Corn
£4.80
Beef with Straw Mushrooms & Baby Corn
£4.80
Roast Duck with Straw Mushrooms & Baby Corn
£5.20
Singapore Vegetable Fried Rice
Hot
£4.80
Rainbow Fried Rice
Mixed meat with slightly sweet & sour taste
£5.20
House Special Fried Rice with Sauce
Long container
£5.40
House Special Vegetable Fried Rice
Long container
£5.00
King Prawns with Green Pepper in Black Bean
Sauce
£5.40
Beef with Green Pepper in Black Bean Sauce
£5.00
Chicken with Green Pepper in Black Bean Sauce
£5.00
Roast Duck with Green Pepper in Black Bean Sauce
£5.40
Roast Pork with Green Pepper in Black Bean Sauce
£5.00
Roast Duck with Fresh Ginger & Spring Onion
£5.40
Chicken with Fresh Ginger & Spring Onion
£5.00
Beef with Fresh Ginger & Spring Onion
£5.00
King Prawns with Fresh Ginger & Spring Onion
£5.40
King Prawns in Oyster Sauce
£5.40
Sweet & Sour Pork Cantonese Style
£5.10
Sweet & Sour Chicken Balls
£5.00
Sweet & Sour Chicken Cantonese Style
£5.10
Sweet & Sour King Prawns Balls
£5.40
Sweet & Sour King Prawns Cantonese Style
£5.40
Sweet & Sour Special Cantonese Style
£5.50
Special Foo Yung
Long container
£5.20
King Prawns with Chilli, Salt & Pepper
Dry
£5.40
Golden Phoenix
A dish of sliced chicken & king prawns with Chinese vegetables & cashew nuts, specially prepared with chilli hot flavour sauce
£5.40
Happy Paradise
Mixed meat with assorted vegetables, cooked with garlic & black bean sauce
£5.40
Ho Yu Gai Po
Deep fried chicken & BBQ pork with vegetables
£5.40
Crispy Beef Cantonese Style
Crispy fried shredded beef in hot & sour sauce
£5.40
Crispy Chicken Cantonese Style
Crispy fried shredded chicken in hot & sour sauce
£5.40
Chicken with Chilli, Salt & Pepper
Dry
£5.00
Char Siu Pork in Honey Sauce
£5.40
Beef with Chilli, Salt & Pepper
Dry
£5.00
Wandering Dragon
An exquisite dish of king prawns, sliced chicken & Oriental vegetables, specially prepared & cooked with oyster sauce & delicate spices
£5.40
Set Dinner A for 1 Person
• Beef with Mushrooms
• Sweet & Sour Chicken Balls (5)
• Yeung Chow Fried Rice (1)
• Prawn Crackers
£8.50
Set Dinner B for 2 People
• Beef with Green Pepper in Black Bean Sauce
• Chicken with Mixed Vegetables
• Sweet & Sour Chicken Balls (10)
• Yeung Chow fried Rice (2)
• Prawn Crackers
£17.50
Set Dinner C for 3 People
• Kung Po King Prawns
• Beef with Mushrooms
• Chicken in Lemon Sauce
• BBQ Spare Ribs in BBQ Sauce
• Mini Pancake Rolls (6)
• Yeung Chow Fried Rice (3)
• Prawn Crackers
£26.50
Set Dinner D for 4 People
• Spicy Chilli Crispy Beef
• Special Satay
• King Prawns with Cashew Nuts
• Sweet & Sour Chicken Balls (12)
• BBQ Spare Ribs in BBQ Sauce
• Mini Pancake Rolls (8)
• Yeung Show Fried Rice (4)
• Prawn Crackers
£34.50
BBQ Spare Ribs in BBQ Sauce
£5.30
BBQ Spare Ribs in Peking Sauce
£5.30
BBQ Spare Ribs in Sweet & Sour Sauce
£5.30
BBQ Spare Ribs with Chilli, Salt & Pepper
£5.30
Contact Us
Find Us
1 Lichfield Drive Derby, Derbyshire, DE248UD
We deliver to
DE1, DE21, DE22, DE23, DE24